We spend a lot of time at work. And with more time spent at work, the more we're at risk for an injury. One of the most painful and debilitating injuries that people experience at work is back injuries.
10 Types of Workplace Accidents That Cause Back Injuries
Slip and falls
Injured by a moving object
Struck against moving objects
Overexertion
Repetitive motion injuries
Motor vehicle accidents
Falls from heights
Straining
Compression injuries from falling objects
Overuse injuries
Back Injuries in The Workplace
The Bureau of Labor Statistics (BLS) reports that more than one million workers suffer back injuries each year. They also report that over one-fourth of all worker's compensation claims are related to back injuries.
Which Back Injuries Qualify for Worker's Compensation?
When it comes to evaluating the legal viability of a claim, it's less about what type of back injury, and more about seeking justice for your injuries when they were the direct result of a failure to meet a duty of care.
That's a long sentence, but essentially, if you're going to claim worker's compensation, you were injured while on the job. While you're at work, your employer is responsible for providing a safe work environment for you and your fellow workers.
Your employer should also be aware or be made aware of, any potential dangers or hazards in the workplace. It's your employer's job to provide training to help you avoid getting injured and to maintain safe premises for you to work.
All that being said, there are several types of workplace accidents that can lead to back injuries.
More Information About The Different Types of Back Injuries
Ask any chiropractor and they'll tell you how important the back is. When something is off with your back, it usually means problems for your body. With 33 vertebrae in the spine, that's 33 places where an injury can cause problems.
Disc And Vertebrae Injuries
Herniated Discs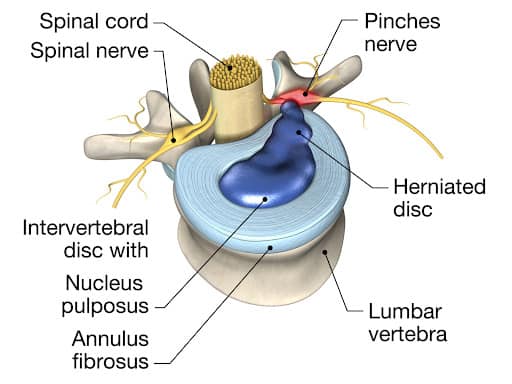 Herniated discs, also known as slipped, ruptured, or bulging discs, are troublesome back injuries that can occur due to any manual labor. The spinal discs are rubbery tissue that rests between the vertebrae in the spine. discs provide a soft cushion between the vertebrae and are one of the reasons that humans can bend and move.
A herniated disc is when the harder material, pictured above as the annulus fibrosus, becomes weak and the internal disc leaks out. Herniated discs can cause nerve damage, nerve pain, and limited mobility.
What Causes Herniated Discs?
Unfortunately, the most common causes of herniated discs are things that many Americans do every day at work.
Repetitive motions
Sitting or standing for long periods of time
Lifting excessive weight
Repetitive bending
Twisting repeatedly
Straining when lifting or twisting
So, even though pain or discomfort might flare up for the first time while you're at home, you might have been injured at work. It is possible to seek compensation for a herniated disc that was caused by work-related activities.
Fractured Vertebrae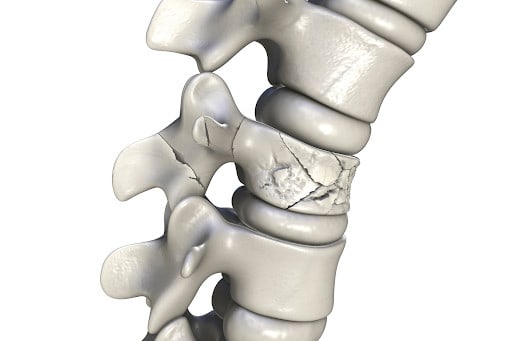 Most commonly, vertebral fractures from workplace injuries or accidents are compression fractures. These injuries typically result from falls or high-impact accidents. Osteoporosis and other degenerative diseases can also make vertebrae fractures more likely.
Other types of work-related vertebral fractures include:
Flexion-distraction features
Axial burst fracture
Burst fractures
Symptoms of Vertebral Fractures
Curved spine
Change in height
Pain that limits your movement
Decreased range of motion
Stiffness in your back
Numbness or weakness in the arms or legs
Pins and needles or a tingling sensation in your arms and legs
Paralysis
Degenerative Injuries
Spinal stenosis

This condition is one that some people can be born with. However, for most Americans, the main causes are wear and tear from repeated movements, traumatic injuries, genetics, and osteoarthritis.
Degenerative disc disease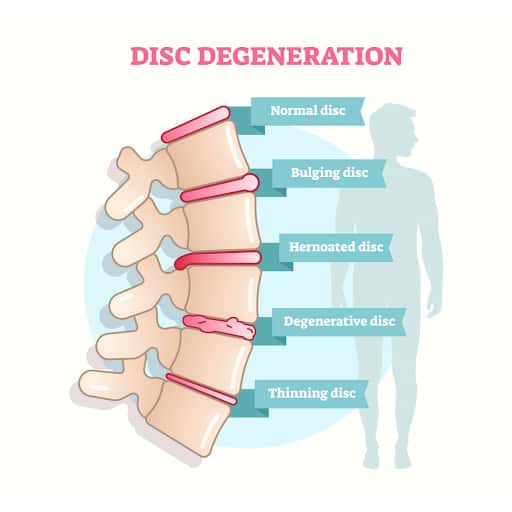 The main characteristic of this disease is the weakening and degrading of the discs between your vertebrae. As you age, discs can lose their elasticity and can crack or shrink. As a result, your individual vertebrae are no longer cushioned from wear and tear of movement.
This condition can be caused by injuries such as overextension from moving or lifting something in the workplace. A slip and fall injury might also cause problems related to degenerative disc disease.
Arthritis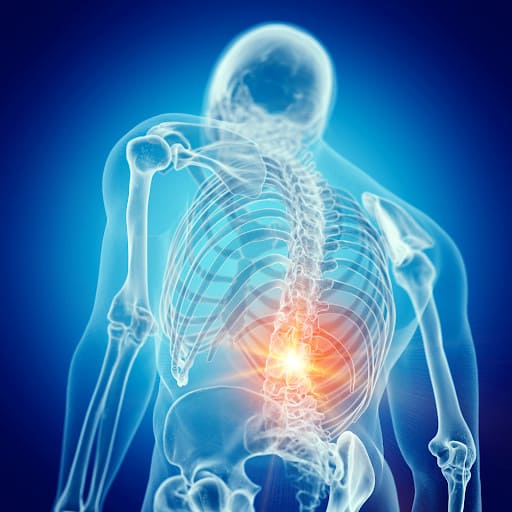 If you sustained an injury at work that caused your arthritis to flare up and prevent you from working, then you deserve compensation. In order to prove a history of arthritis that your employer should have been aware of and failed to protect you from the injury that made your arthritis worse, you will need several types of evidence.
You will need a thorough medical examination as well as any records that you've received treatment for arthritis before the accident. You should also try to obtain the paperwork that should have notified your employer of your arthritis when you started your employment.
The more complete the evidence you have, the great your chance of success will be in winning compensation. Expert workers comp attorneys can help you evaluate your case and fight for the compensation you deserve.
Nerve Damage Injuries
Your back and spine provide much of the structure for the nervous system. When there's a problem with your back there is often a problem somewhere else in your body due to nerve damage.
Sciatica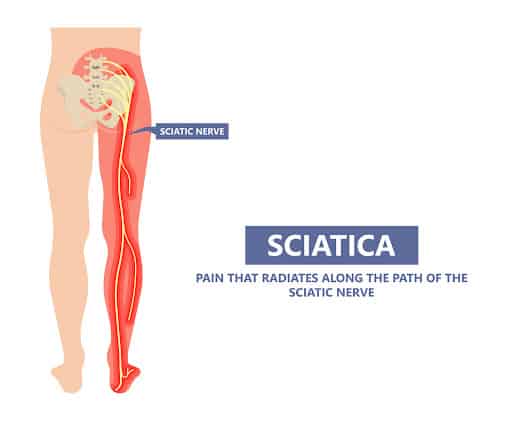 We've mentioned that bulging discs can cause nerve damage, nerve pain, and loss of feeling in parts of your body. You might also experience numbness or tingling due to nerve damage.
Sciatica is another common condition that results from back injuries. This condition affects the nerves from the waist, hip, back, and legs. Typically, sciatic pain is caused by compression of the nerves in the lower back.
If you suffer from sciatica due to a work-related injury, you may be qualified to receive worker's compensation. And if you do deserve worker's comp but your employer will not provide the compensation you need, then you should work with a workplace injury attorney to help you get your life back on track.
Contact the Cochran Firm to Get Compensation for a Workplace Back Injury
Our attorneys are committed to getting you the compensation that you deserve. The legal system is supposed to protect those who are ignored, injured, hurt, and undervalued. If you've been treated unfairly, our attorneys are practiced, experienced, committed, and aggressive when it comes to representing you.
Call Today for a FREE Case Evaluation