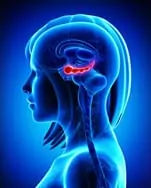 The hippocampus is a small region located in the temporal lobe of the brain that forms part of the limbic system and is primarily associated with long-term memory and spatial navigation.  The hippocampus derives its name from its resemblance to a seahorse from the Greek hippos "horse" and kampos "sea monster".  Because the brain is symmetrical, you have two hippocampi, one on the left and one on the right.  They are just above each ear about an inch and a half inside your head.
As we age, the hippocampus shrinks or atrophies. It has been reported that this atrophy is approximated at around 13% between the ages of 30 and 80. When related to the normal aging process, Hippocampal atrophy occurs symmetrically to both hippocampi.
Hippocampal atrophy can cause significant declines in memory performance. Although the hippocampus plays a role in consolidating memories, especially during sleep, this does not mean that the memories themselves are stored in the hippocampus. It is believed that the hippocampus acts like a shipping center taking in information, registering it and temporarily storing it before shipping it off to the long-term memory.
The temporal lobe of the brain, which is where the hippocampus resides, is vulnerable to injury because of its position in the middle cranial fossa. It has been well established that traumatic brain injury causes hippocampal damage which results in a decrease in hippocampal volume and an increase in temporal horn volume. Decades of research have shown that TBI causes brain atrophy. With advancement in technology, the literature has shifted the discussion from qualitative descriptions to measurement of the volume abnormalities. In TBI, hippocampal atrophy is not symmetrical.
In 2007, NeuroQuant was introduced which changed the landscape of measuring brain and hippocampal atrophy. NeuroQuant is a computer automated method for measuring brain MRI volume. NeuroQuant was able to definitively demonstrate that TBI patients had abnormally rapid progressive atrophy in several brain regions and that rate of atrophy was directly related with a person's inability to return to work. It also demonstrated that atrophy may progress for years after the injury even in patients with a MTBI.
In fact, NeuroQuant was able to demonstrate progressive brain atrophy related to a MTBI where the patient's classical clinical picture for MTBI showed no objective findings of his injury on CT or MRI scan and no signs of atrophy were found by the attending radiologist. In this study, the rate of atrophy attributed to the MTBI was nearly 3% per year.