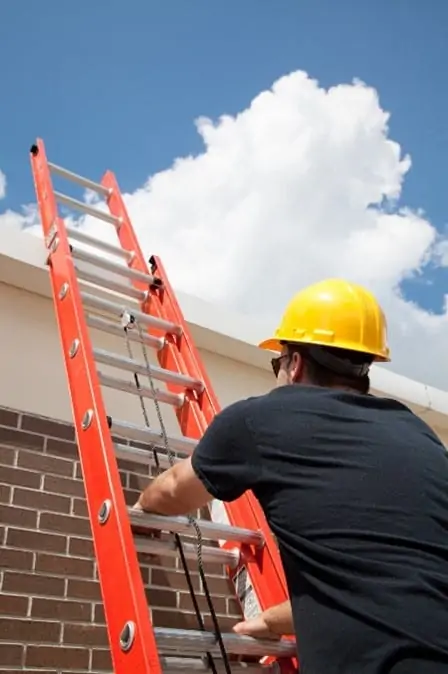 A ladder is a device designed for climbing that has two long side pieces joined at specific intervals by rungs or steps. According to the World Health Organization (WHO), there are more than 164,000 emergency room treated injuries and 300 deaths in the U.S. each year that are caused by falls from ladders. The American Academy of Orthopedic Surgeons places the number of people treated for ladder-related injuries much higher at approximately 500,000 a year.
According to the Centers for Disease Control and Prevention (CDC), nearly half of deadly falls have bee from ladders. Among workers, approximately 20 percent of fall injuries involve ladders and among construction workers, an estimated 81 percent of fall injuries treated in hospital emergency rooms involve a ladder.
In 2011, work-related ladder falls resulted in 113 fatalities and another 34,000 non-fatal injuries treated in emergency rooms.
Most ladders are heavy and not easily positioned. Ladder injuries can include:
Losing one's balance
Mis-stepping while going up or down the ladder
Mounting or dismounting the ladder improperly
Failing to set up the ladder properly
Leaving a ladder unattended
Ladder falling on someone causing injury
The Occupational Safety and Health Administration (OSHA) believes that 100% of all ladder-related accidents could be prevented if proper attention to equipment and climber training were provided. According to the Bureau of Labor Statistics, 50% of all ladder-related accidents were due to individuals carrying items as they climbed.
OSHA has provided specific regulations regarding ladders to help decrease accidents involving ladders. Those regulations relate to the following topics:
The loads a ladder must support without failure
Ladder rungs, cleats or steps
Ladder safety devices
Use of ladders
Maintenance of ladders
Movement of ladders
Inspection of ladders
Repair of ladders
Carrying objects while using a ladder
In Louisiana, Civil Code Articles 2317 and 2317.1 provides that an owner or custodian of a thing (like a ladder) is responsible for the damage occasioned by its ruin, vice or defect if he knew or should have known of that condition and the defect could have been prevented by the exercise of reasonable care.
The Cochran Firm New Orleans attorneys have experience in handling catastrophic injuries suffered from ladder falls and injuries. We know the experts to utilize to prove these cases and maximize recovery.