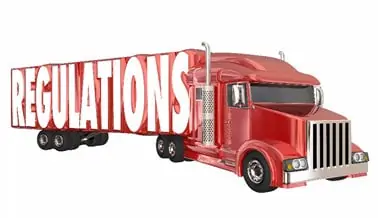 Yes, The Federal Motor Carrier Safety Administration (FMCSA) issues regulations which govern the safety and oversight of commercial motor vehicles. Its mission is to reduce crashes, injuries and fatalities involving large trucks and buses. The FMCSA was established as a separate administration within the U.S. Department of Transportation on January 1, 2000, pursuant to the Motor Carrier Safety and Improvement Act of 1999. It is headquartered in Washington D.C. and employs more than 1,000 people in all 50 states.
Some of the rules issued by the FMCSA regulate the hours that commercial truck drivers can operate their vehicles in a 24-hour period. These rules were designed to increase safety and decrease accidents related to truck driver fatigue. Other rules govern the inspection, repair and maintenance of commercial vehicles and the transportation and parking rules for hazardous materials.
The FMCSA also regulates the driving credentials of commercial motor carriers to help ensure that the safest and most qualified drivers are operating large trucks. The rules apply to every person who operates a commercial motor vehicle in interstate, foreign, or intrastate commerce, to all employers of such persons, and to all States. Some of these regulations include:
Prohibiting a commercial driver from having more than one driver's license;
Requiring a driver to notify his/her employer of a conviction for violating a state or local traffic law in any type of vehicle;
Requiring that a driver provide previous employment information when applying for employment as an operator of a commercial motor vehicle;
Establishing periods of disqualification and penalties for those persons convicted of certain criminal and other offenses;
Prohibiting an employer from allowing a person with a suspended license to operate a commercial vehicle;
Establishing testing and licensing requirements for commercial motor vehicle operators;
Requires States to give knowledge and skills tests to all qualified applicants for commercial drivers' licenses;
Establishing requirements for the State issued commercial license documentation.
There are exceptions for certain military drivers and for farmers, firefighters and emergency response vehicle drivers and drivers removing snow and ice.