Co-Chaired by Richard Arsenault, Eric Holland, Jane Lamberti & Shean Williams.
See topics, faculty listing and hotel details for this CLE Event at Harris Martin!
Prior to obtaining her law degree from Vanderbilt University, Jane Lamberti received her bachelor's and master's degree in chemistry and chemical engineering, respectively. She uses her scientific expertise to simplify complex medical evidence and clarify technical details to win a jury's confidence and favorable verdict. Just recently, Ms. Lamberti led a trial team to win a 20.2 million dollar verdict against Emory University for the wrongful death of a man during a sleep study. This verdict was featured in the National Law Journal's Top 100 verdicts for 2015. Eight figure verdicts are not rare when Ms. Lamberti has tried single event cases. In 2013, she obtained a 17.1 million dollar verdict against Grady Hospital on behalf of a young man brain damaged during a routine surgery. In 2009, she also led the trial team that secured more than $22 million in damages - the largest amount of compensatory damages ever awarded for wrongful death in Georgia - in a trucking case, Gandy v. Devore & Johnson. Both of these verdicts were also listed in the National Law Journal's Top 100 verdicts. She has served on the Plaintiff's steering and discovery committees for DePuy ASR and Pinnacle Hip litigation.
Ms. Lamberti has obtained more than $120 million in settlements and verdicts in complex medical and technical cases. Ms. Lamberti was selected for Georgia Verdict's Hall of Fame in medical malpractice in 2015. National Trial Lawyers has named her one of its Top 100 Trial Lawyers since 2013. She has been a Georgia Super Lawyer for the last five consecutive years, maintains Martindale's highest AV rating, and received Women Looking Ahead Magazine's Most Powerful and Influential Female Lawyer Award in 2011.
To hear Lamberti speak, register for this conference at harrismartin.com.
Want to Sponsor at this Event?
If you'd like to join the following companies in sponsoring this CLE,
please contact Vicki Gilbreath or Call (800) 496-4319.
High-profile breakfast and cocktail reception sponsorships still available!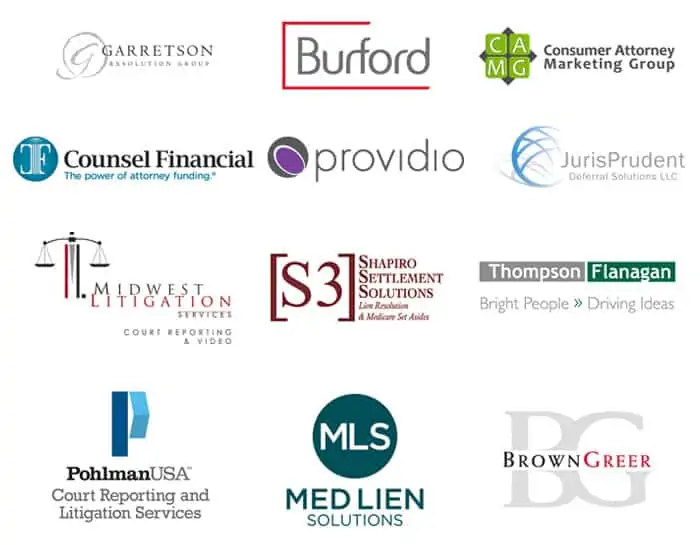 If you want to file an Injury & accident claim, contact our Accident Lawyers, who have expertise in Auto Accident, Car Accident, Brain Injury, Personal Injury, Premises Liability,Truck Accident, Police Misconduct and other areas of practice. Call The Cochran Firm Atlanta toll-free at (404) 222-9922, or send us your queries using this inquiry form.