HarrisMartin's May MDL Conference is Only 2 Weeks Away!
See Below for an Updated Faculty Listing and Agenda Details.
HarrisMartin's MDL Conference: 'Bet-the-Company' Mass Tort Litigation.
Wednesday, May 25, 2016.
Thompson Chicago - Chicago, IL.
Register Here.
SPEAKERS INCLUDE:
Co-Chair Richard J. Arsenault, Neblett, Beard & Arsenault
Co-Chair Eric D. Holland, Holland Law Firm
Co-Chair Jane M. Lamberti, The Cochran Firm
Co-Chair Shean D. Williams, The Cochran Firm
Keynote Speaker W. Mark Lanier, The Lanier Law Firm
Hon. Glenn Norton (Ret.), Blitz, Bardgett & Deutsch LC
Hon. Daniel J. Stack (Ret.), Aequitas Alternative Dispute Resolution
Hon. Staci M. Yandle, U.S. District Court, Southern District of Illinois
Thomas R. Anapol, Anapol Weiss
Professor Lynn A. Baker, University of Texas School of Law
Khaldoun A. Baghdadi, Walkup, Melodia, Kelly & Schoenberger
Gregory J. Bubalo, Bubalo Goode Sales & Cronen
David Cates, Cates Mahoney, LLC
David R. Cohen, Special Master, David R. Cohen Co. LPA
Dawn M. Chmielewski, Neblett, Beard & Arsenault
Todd Campbell, Neblett, Beard & Arsenault
Lori G. Cohen, Greenberg Traurig, LLP
R. Seth Crompton, Holland Law Firm
Nicholas J. Drakulich, The Drakulich Firm
Professor Jaime L. Dodge, Emory University School of Law
Brian Devine, Seeger Salvas LLP
Robert J. Drakulich, The Drakulich Firm
Peter J. Flowers, Meyers & Flowers
Matthew L. Garretson, Garretson Resolution Group
Ben Gordon, Levin Papantonio Thomas Mitchell Rafferty & Proctor, P.A.
Deborah Greenspan, Blank Rome LLP
Srivatsa V. Gupta, Neblett, Beard & Arsenault
Adam L. Hoeflich, Bartlit Beck Herman Palenchar & Scott
Douglas R. Marvin, Williams & Connolly LLP
Steve Nober, Consumer Attorney Marketing Group (CAMG)
Neil D. Overholtz, Aylstock, Witkin, Kreis & Overholtz, PLLC
Michelle A. Parfitt, Ashcraft & Gerel, LLP
Paul J. Pennock, Weitz & Luxenberg P.C.
Gary J. Russo, Special Master, Jones Walker LLP
Ken Seeger, Seeger Salvas LLP
Hunter J. Shkolnik, Napoli Shkolnik PLLC
Steven Skikos, Skikos
Joseph Thorpe, International Litigation Services, Inc., (ILS)
Lance C. Unglesby, Unglesby & Williams, LLC
Aimee H. Wagstaff, Andrus Wagstaff
James D. Young, Morgan and Morgan, PA
Visit the Conference Home Page to View the Full Agenda, Faculty List, CLE and Hotel Information.
Sponsors for this Event Include: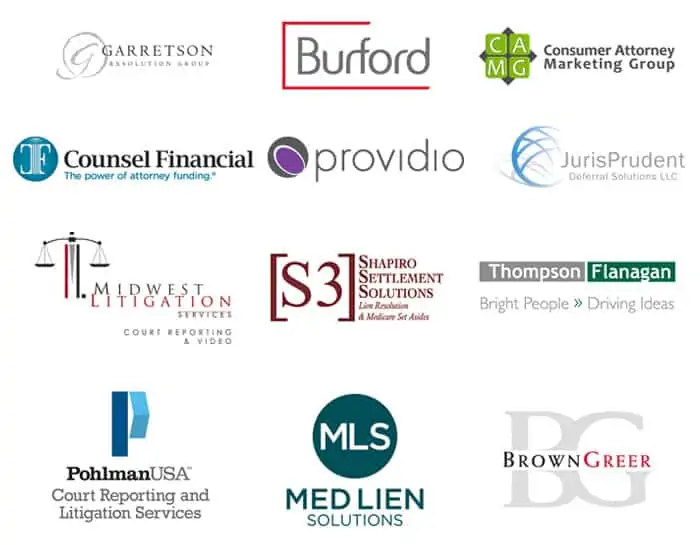 If you want to file an Injury & accident claim, contact our Accident Lawyers, who have expertise in Auto Accident, Car Accident, Brain Injury, Personal Injury, Premises Liability,Truck Accident, Police Misconduct and other areas of practice. Call The Cochran Firm Atlanta toll-free at (404) 222-9922, or send us your queries using this inquiry form.